Today's robotic solutions—both fixed and autonomous mobile robots—are increasingly being built as a platform upon which application-specific solutions can be built to handle unique manufacturing and warehousing tasks. But, in today's highly dynamic, ever changing world, needs and strategies may likewise shift. Fortunately, due to their inherent flexibility and versatility, robots can be adapted to accommodate those changing needs.
Depending on the new task at hand, modifications can be made within onboard software to allow the robot to tackle the new process. Or—if the new purpose is vastly different from the original function—the manufacturer can help to re-engineer new functionality on an existing system base. Either way, by adapting an existing robotic solution to meet a new need, the initial investment is maximized and the entire operation benefits from the functional adaptability.
Here, a look at four operations that are leveraging robotic flexibility to handle new products, tackle new tasks, and ensure the health and well-being of their employees and customers during the COVID-19 pandemic.
Robotic AI Enables Picking of Broad, Constantly Changing Variety of Products
While robots are ideally suited to repetitive tasks, until now they lacked the intelligence to identify and handle tens of thousands of constantly changing products in a typical dynamic warehouse operation. That made applying robots to picking applications somewhat limited. Therefore, when German electrical supply wholesaler Obeta sought to install a new automated storage system from MHI member KNAPP in its new Berlin warehouse as a means to address a regional labor shortage made worse by COVID-19, the company specified a robotic picking system powered by onboard artificial intelligence (AI).
"The Covariant Brain is a universal AI that allows robots to see, reason and act in the world around them, completing tasks too complex and varied for traditional programmed robots. Covariant's software enables Obeta's Pick-It-Easy Robot to adapt to new tasks on its own through trial and error, so it can handle almost any object," explained Peter Chen, co-founder and CEO of MHI member Covariant.ai.
"Historically, a robot was programmed to perform one kind of task, such as fastening the same bolt onto the same car part," he said. "AI-powered robots can handle much more complex tasks. With item picking, for example, the Covariant Brain can identify what an object is, recognize the optimal grasp point, understand how heavy or light the item is, and determine where to place it. The AI learns to automatically make decisions about how to pick and handle constantly changing items."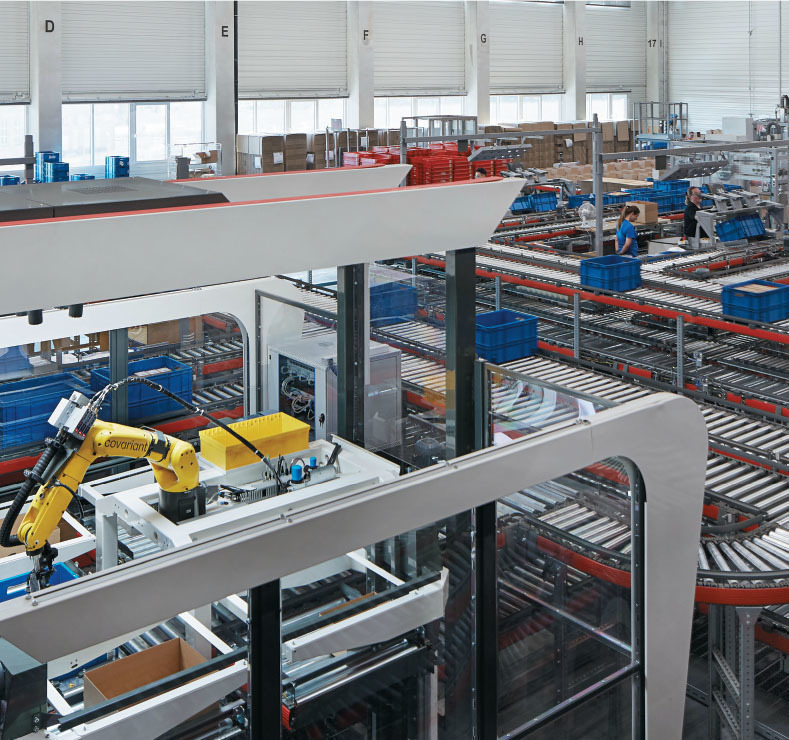 That functionality enables the robot to act more like a human, Chen continued. "For a human, picking up different items seems so simple. But in reality, there are a lot of steps and decisions that have to be made. With AI software that can learn and adapt, a robot can handle a wide variety of products as quickly and accurately as a manual station," he said.
At Obeta, the Pick-It-Easy Robot picks and places products from storage containers into order boxes. It was able to integrate fully into existing systems, enabling automation of capabilities such as whitelisting and error handling. Further, because the facility runs 24 hours a day, 5 days a week and received tens of thousands of regularly changing products each month, the robot's ability to autonomously handle items it had never seen before without disruption has been a key advantage.
"We can depend on it to do its job, and don't have to worry about it not being able to work, which is a huge win for us," said Michael Pultke, head of logistics at Obeta. He reports that the robot runs up to 14 hours a day, picking at peak speeds of 600 items per hour at 99% accuracy—even as it learns new objects each week.
Proven to Improve Quality and Eliminate Repetitive Tasks, Manufacturer Looks for Other Applications for Cobot
Facing significant labor shortages, Allied Moulded sought to automate its bin picking application to improve quality and free its workers from repetitive, unergonomic tasks.
Using manual labor for bin picking produced inconsistent results, reported manufacturing engineer technician, Nate Gilbert: "One of the biggest challenges with manual labor is they get tired and toward the end of the day, production would go down; whereas with a robot, you can always count on a consistent output."
The COVID-19 pandemic added another layer of concern regarding the company's manual labor force. "We faced the risk that dedicated staff at any moment would not be here for reasons beyond their control," explained manufacturing support department manager, Tom Carlisle. "We needed a way to keep those processes running."
Additionally, with limited floorspace, the company required an automation solution that would not require guarding. The company selected ActiNav, an automated bin picking solution powered by a collaborative robot (cobot) from MHI member Universal Robots that synchronously handles vision processing, collision-free motion planning, and autonomous real-time robot control.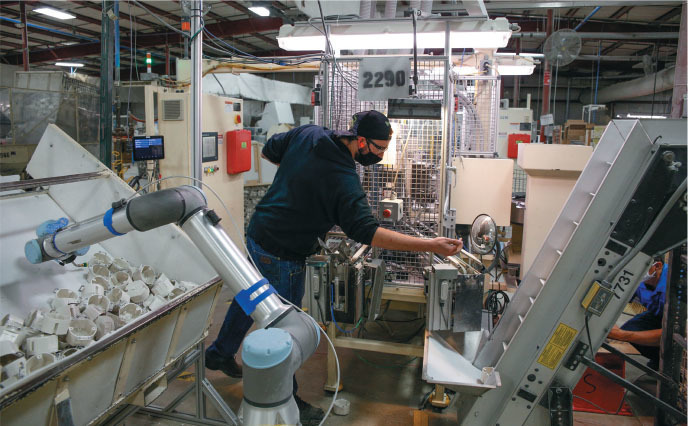 While Allied Moulded had experience with traditional automation, deploying a cobot was "a brand-new experience," said maintenance group lead, Nathan Wells. "When it came to programming, this was probably one of the easiest robots that I've ever had to program. You just have to move it into place, push a few buttons and there's the program."
Feeding ActiNav the data needed for part recognition is an equally painless process, he continued. "We used a CAD file of the product, loaded it into the ActiNav and it took that and used it to register parts out of the bin. It was very easy to load in. You just put it on a USB and plug it into the controller," Wells explained, adding that teaching the bin was also very straightforward. "We just touch the robot to each part of the bin. You do a few spots of that, and ActiNav learns the bin itself."
The bin picking process begins with stock handlers unloading a full crate of parts into a dumpster. Once activated, the dumpster dumps its parts into the ActiNav bin. ActiNav picks parts—in this case, extruded fiberglass electric junction box housings—and places them in proper orientation onto a narrow, railed conveyor. The conveyor brings the parts to a small, caged work cell equipped with a rotary table serving multiple stations.
At each station, a fabrication element is applied, then an out-conveyor that transfers finished parts into a large bin. Along the way, ActiNav has to make some decisions autonomously: which part to pick; how to place it in the correct orientation; and to identify incorrect parts, place them aside, and continue with its main task. As long as the bin is kept full, ActiNav can run all day without operator intervention.
"I've been impressed with the ability of the robot to pick our parts out of the bin, no matter the orientation, and place them on the machine correctly," said Gilbert. "A task like that is usually pretty hard for a robot to be set up to do. We're confident in an operator doing it; but to have the robot do it and not have to use direct labor in that situation has been a big benefit."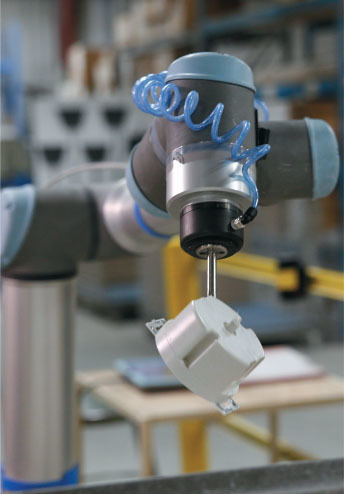 Although a human operator might perform the task faster, their consistency can be affected by the need to take breaks, Carlisle added. "At the end of the day, the total amount of product should be the same, if not better, with ActiNav than a human operator; but without the fatigue and manual dexterity of moving all the time."
Deploying ActiNav has allowed operators at Allied Moulded to upskill, becoming trainers and mentors on the system and contribute design ideas for future automation projects. Carlisle noted that robots' inherent versatility and flexibility has also inspired a host of ideas for future applications.
Allied Moulded is "well on its way" to being able to move the cobot to any machine and set it up for any part style, noted Gilbert: "We're planning to implement ActiNav anywhere we can find a benefit for it. If we had a failed vibratory bowl, for example, we would just have ActiNav pick the part out of the bin and place it on the line."
Because of its adaptability, the company plans to apply ActiNav to different tasks within in its facility, Wells said. "Table loading would definitely be something that I could see happening. This process includes loading parts from a bin directly onto a round table that will rotate around to stations, instead of loading it onto a conveyor," he concluded.
Ability to Reconfigure AMRs for Different Processes Prompted E-Fulfillment 3PL's Investment
Dutch company Active Ants provides third-party logistics (3PL) warehousing services to various e-commerce companies in Belgium, The Netherlands and Germany—storing, packing and distributing goods for more than 250 customers and filling more than 3 million orders annually. The company recently implemented more than 60 Ranger MoveSmart robots directed by the GreyMatter operating system from MHI member GreyOrange in its new, 20,000 square meter e-fulfillment center in Roosendaal, The Netherlands.
The warehouse uses the GreyMatter Smart Zone Transfer application, enabling the robots to autonomously move and sort inventory in flexible process flows not possible with fixed conveyors or sorters. In the application, Smart Zone Transfer happens autonomously with the GreyMatter software orchestrating the complete process flow as Ranger MoveSmart robots convey inventory to various workstations.
The process begins as Ranger robots take empty boxes to employees who fill them with goods brought by other robots. Next, Ranger robots transport the filled boxes to packaging machines where they are sealed and weighed. Then, Ranger robots collect the packages and sort them to the correct zones for shipping directly to customers.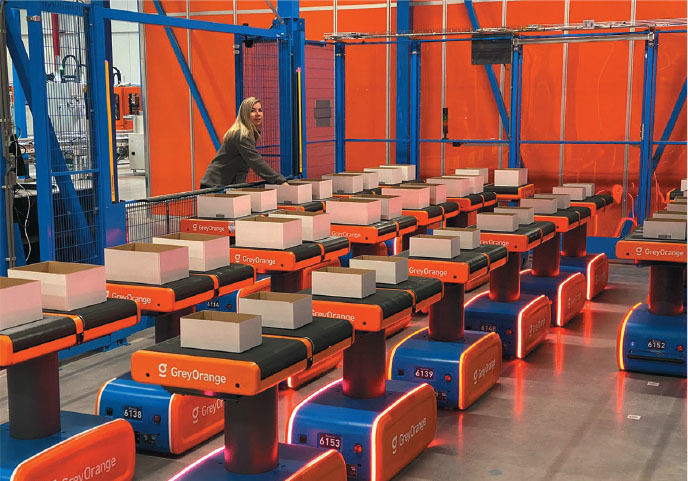 Active Ants selected the solution because of the autonomous mobile robots' ability to be flexibly and easily reconfigured through simple changes in GreyMatter's Command Center interface to accommodate different processes—unlike fixed infrastructure that is difficult or impossible to reconfigure. With traditional conveyor systems and most existing software platforms, this type of change would typically take months of customized solutioning and implementation.
"No matter what I need to do with zone transfer, I can alter the process flow in GreyMatter even though I'm not a programmer," said Jeroen Dekker, managing partner at Active Ants. "This level of flexibility allows us to meet our current needs while also having the ability to quickly make changes. We can easily modify the robot movements if needed as well as scale up the solution in line with our throughput growth to smartly manage capital investment."
"Fast-growing companies require automation that equips them to easily adapt their fulfillment processes as market dynamics change," added Akash Gupta, co-founder and chief technology officer for GreyOrange. "They don't want to be constricted by fixed infrastructure that locks them into process flows for 10 to 15 years. The power to quickly adapt is what gives retailers an edge in today's world, and it's a foundational design principle of our GreyMatter Fulfillment Operating System and family of Ranger robots."
Versatile Platform AMR Equipped for Disinfection to Protect Workers, Customers
In spring 2020, MHI member Fetch Robotics realized that its autonomous mobile robots (AMRs) could be outfitted for disinfection applications. Because Fetch's AMRs are designed with a flexible mobile platform-based technology and cloud software, they can be easily adapted and customized to perform a variety of tasks based on how the robots are configured with attachments. The company works with a variety of partners to support the creation of different solutions, including those that combat COVID-19, like the Breezy One AMR developed by Build With Robots.
In response to the COVID-19 pandemic, many organizations have implemented routine disinfection procedures to eliminate traces of the novel coronavirus from public spaces. Disinfection is a time intensive task for spaces of any size, as every surface—from visible ones, like door handles, to less-visible areas like the undersides of seats and tables—has to be disinfected in order to fully eliminate the virus. These challenges are multiplied for large scale facilities, which require significantly more manpower and labor costs to disinfect, and which often expose employees to cleaning chemicals that can potentially be harmful.
The Breezy One AMR addresses those challenges by autonomously spraying a fog that disinfects up to 100,000 square feet in 1.5 hours, eliminating 99.9999% of viruses and bacteria and enabling safe re-entry in as little as 20 minutes. With the robot, human workers avoid exposure to both the pathogens and the disinfecting chemicals. Among the solution's users is the Albuquerque International Sunport, New Mexico's largest commercial airport, which has had four Breezy One robots disinfecting the facility each night since last June—just a couple of months after Fetch and Build With Robots brainstormed the original concept.
"Now more than ever, the top priority for any facility is to ensure the health and safety of employees and customers," said Fetch CEO Melonee Wise. "Through our work with the Build With Robots team, we were able to move from product conception to commercial deployment in only three months, a timeline that reflects the urgency of the challenge and the world-class team responsible for the robot itself."
Wise added that Fetch's ability to commission the robots remotely, without requiring an engineer onsite, facilitated the deployment speed. "We pack them up and ship them to a customer. They take it out of a box and connect it to Wi-Fi, and it works because all of our software is in the cloud. Not only is it really easy, but also in this environment no one wants visitors to come onsite," continued Wise, who added that manufacturing and logistics applications typically require three to nine months to deploy automation technology. "With Breezy One, we took it down to less than three days."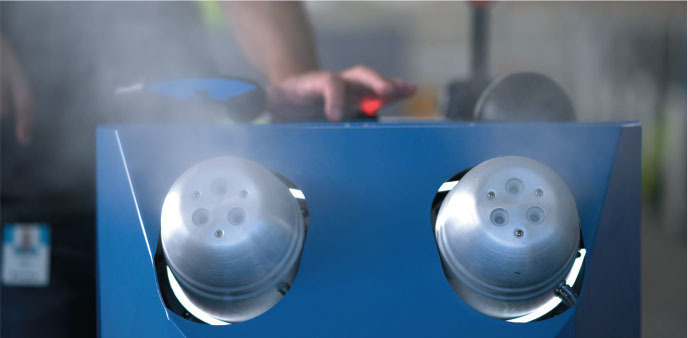 "Partnering with Fetch enabled Build With Robots to come to market quickly by leveraging Fetch's mapping, navigation, overhang avoidance and floor-obstacle avoidance," added Barry Phillips, chief marketing officer at Fetch. "Build With Robots also leverages the FetchCore cloud robotics software, which enables the Build With Robots team to remotely change the robot's disinfecting paths, schedules and frequencies as a customer's needs change."
"The hardest and most rewarding part of developing the robot was ensuring it fit perfectly into the existing airport workflows to support the staff while also making them feel safer," said Kimberly Corbitt, chief commercial officer at Build With Robots. "In my experience, even if the workers are fully protected head-to-toe with personal protective equipment (PPE), they really do not want to manually fog areas. It's not a fun job, and I've heard of instances where employees will refuse to do it."
Breezy One operates with complete autonomy, continued Corbitt, who personally worked with the custodial staff at the Sunport to program and implement the four Breezy One robots.
"The options that are presented on the screen of Breezy One enable the staff of the airport to control operations, as opposed to having a process engineer or automation person control Breezy One from a computer," she explained. "It takes one person to fill the robot, set up warning signs, and push the button on the screen of Breezy One that sends the robot on its disinfecting path. When the disinfection is done for the evening, the staff pushes a button on the screen of the robot to instruct Breezy One to return to its docking station."
Once the Build With Robots team understood the facility's desired disinfection workflow, they adapted the Breezy One to match that need, Corbitt continued. "When they decided to expand the disinfection path, it was very easy to map the new area, which included narrow hallways and small rooms. Because the overarching Fetch control software continually updates with new use cases, it was easy for the system to adapt to those new constraints."
Based on the success the Sunport has demonstrated with Breezy One, more industrial and warehousing operations have been assessing the system. "Autonomous disinfection robots allow these workers to focus on safer, value-added tasks, and companies know that their operations are safe for all their employees," she said.
"Our experience creating Breezy One shows that companies that work hard, fast and smart can come up with solutions that address the challenges that arise as the world changes, while making workers' lives better," concluded Corbitt.
Six Steps for Repurposing Industrial Robots
The traditional approach of building a robot to perform one job for life is no longer valid, according to Albert Nubiola, CEO at RoboDK, a robotics laboratory in Canada that was founded in 2015 as spin-off of the CoRo laboratory at ETS University in Montreal.
"With high-mix, low-volume, this isn't the case anymore," he noted. "People used to worry that robotics would make humans' jobs obsolete; now, companies worry that changing operational needs will make their robotic investment obsolete."
Although repurposing an industrial robot does have certain limitations—a 4-axis palletizing robot can't be converted to a spot-welding robot, for example—the underlying technology retains its inherent flexibility. "That's one of the major strengths of robots," Nubiola continued. "They are extremely flexible."
The life of a robot arm can exceed 20 years. On the other hand, some industries such as car manufacturing, renew robots every five to 10 years, meaning there's also a market for used robots, he added.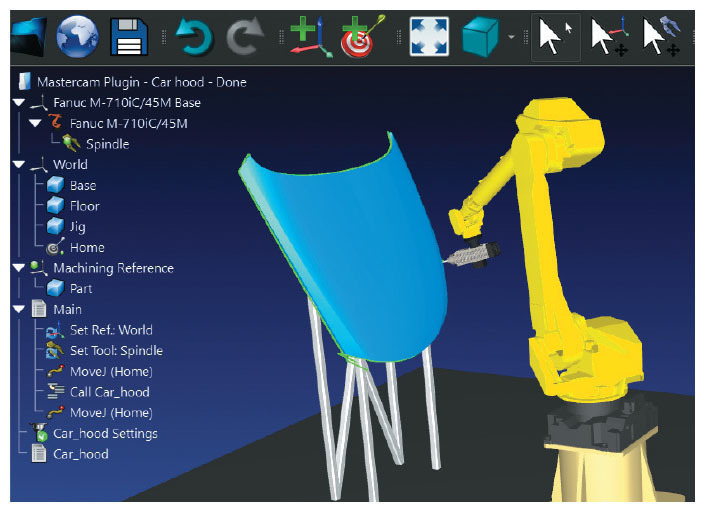 For operations who have decided to repurpose an existing robot, Nubiola recommended following six steps:
1. Confirm that the Old Task Is Unnecessary. First, make sure that the robot's previous task is truly no longer needed. Even the quickest robots to redeploy take time (weeks or months usually). Don't spend valuable time reconfiguring the system only to find that you did need the robot to perform its original assignment after all.
2. Identify Potential New Tasks. Make a list of all the potential tasks that could be good candidates for automation. Robots are great for a variety of different operations, including welding, painting, deburring, pick and place, and more. Then, identify the top task or tasks that you want to try to automate.
3. Make a Simulation. Before touching the physical robot, use a robot simulator to create a virtual mock-up of the new task in software. Simulation is much quicker than setting up a physical mock-up. It also allows for validation that the robot's reach is suitable for the task.
4. Try the Robot in the New Simulated Task. Load the robot model into the simulator and try programming it to perform the chosen task. This will help to evaluate whether or not the existing robot will be able to perform the new process.
5. Determine if the Robot Is Suitable. Decide if the robot is going to be able to successfully perform the new task. If not, run the simulation with some different robot models to determine if the robot is the problem, or if the simulation needs improvement. If the robot still doesn't match, consider simulating another task it might be able to perform.
6. Deploy the New Task. Now it's time to complete the robotic repurposing. Optimize it as much as necessary and deploy the system. This stage often takes the most time, but by utilizing a simulator for designing and developing the program for the robot, it may be possible to transfer that code directly to the physical robot with minimal additional onboard programming.
Read full article on MHI Solutions
Ready for flexible fulfillment that adapts in real-time? Let's chat.